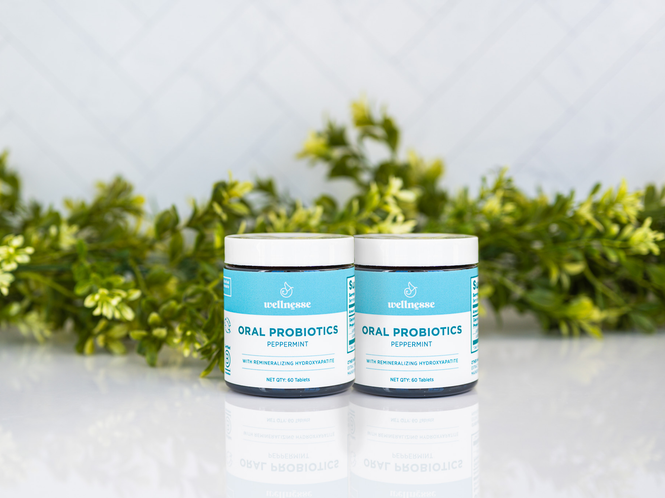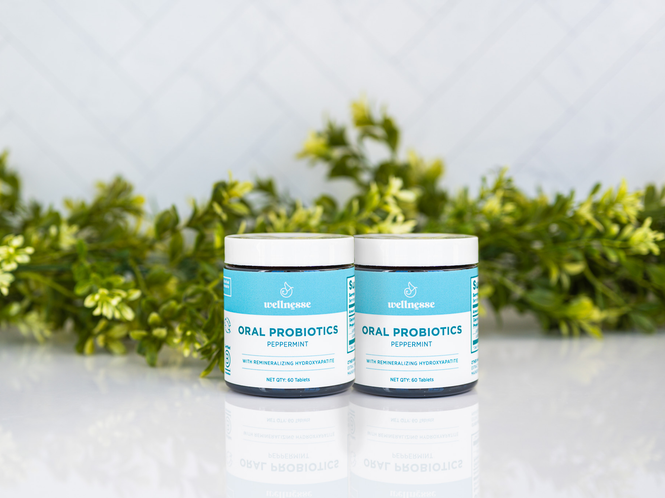 Oral Probiotics - 2 Pack
Peppermint
Regular price
$36.00

$36.00
$40.00
DESCRIPTION

Introducing our Oral Probiotics, the perfect solution for freshening your breath and supporting your oral microbiome! Carefully crafted with only the best ingredients, we have hand-selected four probiotic strains that work synergistically to provide your mouth with everything it needs to maintain a state of optimal health and happiness.




Why settle for mundane breath fresheners when you can have so much more? Our Oral Probiotics not only deliver a burst of refreshment but also support the delicate balance of beneficial bacteria in your mouth. By promoting the growth of these friendly microorganisms, our probiotics help to maintain a harmonious oral microbiome, which plays a vital role in overall oral health.




But we didn't stop there! We went the extra mile to include one of our all-time favorite ingredients that we use in our toothpaste formulas: Hydroxyapatite. This remarkable mineral possesses remineralizing properties, which means it can assist in repairing and strengthening your teeth. By incorporating this key ingredient into our Oral Probiotics, we provide you with a comprehensive oral care experience that goes beyond mere freshness.




Imagine the convenience of having a powerful oral care solution at your fingertips, wherever you may be. With our Oral Probiotics, you can easily refresh and repair your mouth, anytime, anywhere. Each tiny tablet is packed with the goodness of probiotics and hydroxyapatite, making it a portable and effective way to support your oral health on the go.




Our Oral Probiotics are designed to seamlessly fit into your busy lifestyle, ensuring that you can maintain a healthy mouth effortlessly.

Simply pop one of these delightful tablets into your mouth, allow it to dissolve, and let its refreshing flavor and powerful ingredients work their magic. 

Now, you can refresh 

and

 repair (anytime, anywhere) with one tiny tablet!




Experience the difference that our Oral Probiotics can make in your oral care routine today!
USAGE

We recommend letting one Oral Probiotic dissolve in your mouth after eating and brushing your teeth to freshen your breath and let the probiotics and hydroxyapatite go to work! Our probiotics are safe for all ages, and the amber glass jar protects the live probiotic cultures, so no special storage is necessary!

Acceptable Dose: 2 tablets per day
INGREDIENTS

Calcium Hydroxyapatite, Lactobacillus reuteri, Lactobacillus acidophilus, Lactobacillus salivarius, Lactobacillus paracasei, Xylitol, Chicory Root Extract, Peppermint Oil Powder, Stevia Leaf Extract, Magnesium Stearate, Stearic Acid, Silicon Dioxide
Packaging Disposal

Both the amber glass jar and plastic cap are recyclable or reusable!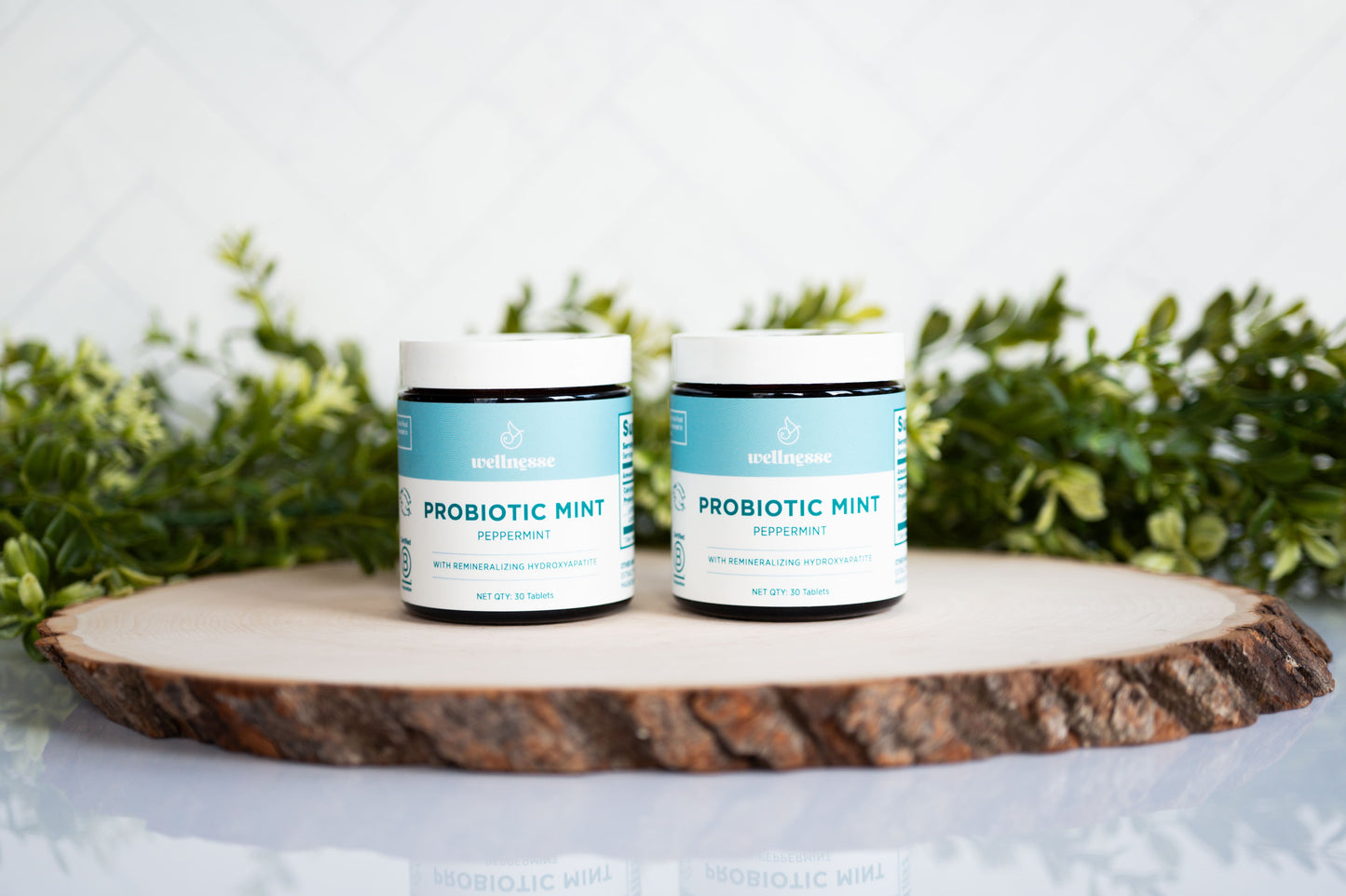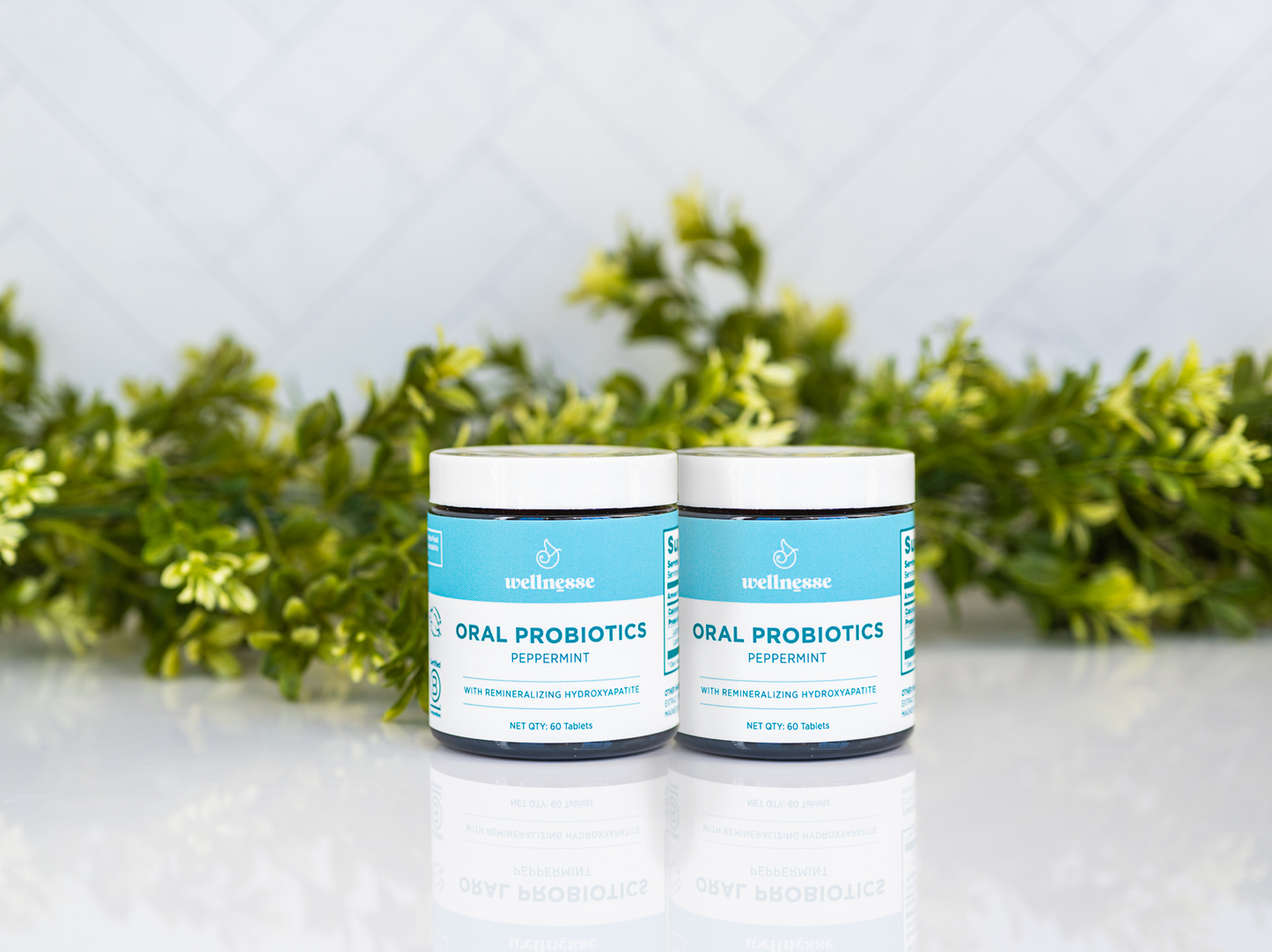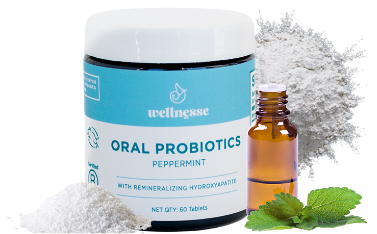 HYDROXYAPATITE
A naturally occurring mineral that makes up tooth enamel and strengthens teeth

PROBIOTICS
Help to support and build a healthy oral microbiome
PEPPERMINT LEAF EXTRACT
Antimicrobial and antiviral

The CHERRY ON TOP of my oral care routine!! The flavor plus the combo of heavy-hitting ingredients is incredible and something I haven't seen anywhere else. So glad to have this for a midday boost to freshen my mouth!
- AIMEE B.
RESTORE BALANCE
Excellent oral health is more than just brushing and flossing; it's also building a healthy, resilient oral microbiome. There are over 700 different types of bacteria in the human mouth, both good and bad. When the good bacteria are outnumbered, bad breath, tooth decay (cavities), and gum irritation begin to appear. Clean, fresh probiotic strains can help to restore bacterial balance, strengthening your oral microbiome more and more with each dose!

Tasty AND effective! This product tops off my oral care routine. I love using it right before I head out for the day. I'm confident my breath is fresh, my teeth are getting even stronger, and my gut is happy! I'm in love!
- FRANNIE R.
REFRESH and REMINERALIZE
There are a few probiotics out there, but we are the first to incorporate hydroxyapatite! This naturally occurring mineral is one of our superstar ingredients for its ability to strengthen and remineralize dental enamel. It's a must-have in all of our toothpaste formulas, so why should our Oral Probiotics be any different? So, when you pop in an Oral Probiotic tablet and go about your day, know that you aren't just freshening your breath, you're repairing and restoring your teeth - without even having to try!"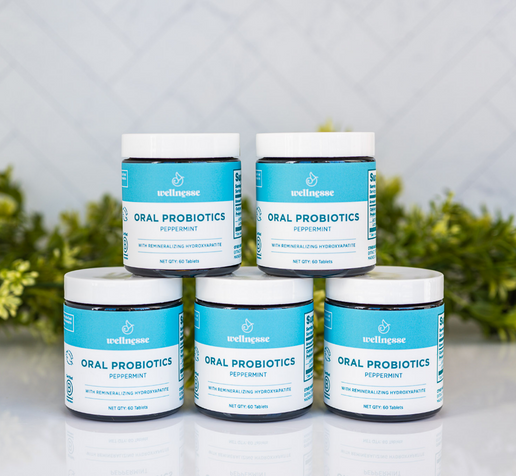 -- Nothing To Lose – Everything To Gain --
No Regrets Allowed! Try Wellnesse Risk-Free With Our Happiness Guarantee
At Wellnesse, we believe everything should be this good. That's why we're making it risk-free for you to try! If you're not happy with your purchase for whatever reason, just contact our customer service team within 30 days and we'll make sure you're happy.
ADD TO CART


MOST POPULAR
Regular price

Sale price

$15.00

Unit price

per