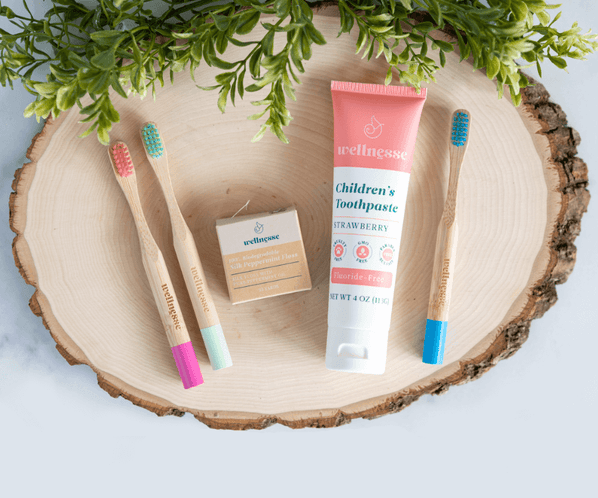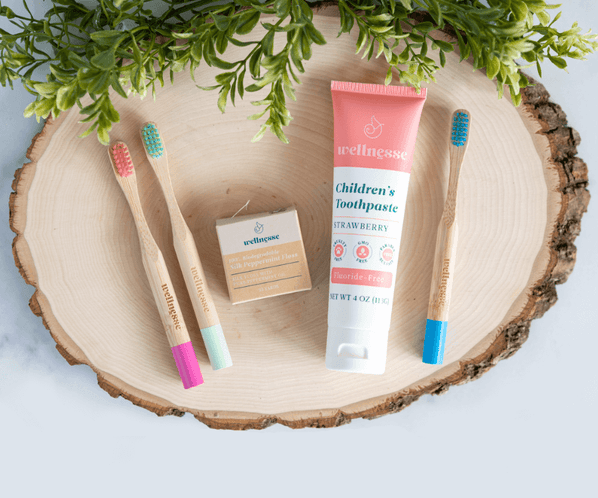 The Ultimate Family Bundle
GIFT SET
Regular price
$85.00

$85.00
$94.00
DESCRIPTION

Enjoy all the holiday treats without any of the guilt! Our Ultimate Family Gift Set protects all smiles (big and small) and keeps your pearly whites shining brightly all through the holiday season. This bundle includes our entire oral care line (original favorites and new additions) and has something for everyone! This set contains:

1 Whitening Toothpaste

1 Charcoal Toothpaste

1 Strawberry Toothpaste

1 Silk Peppermint Floss

2 Copper Tongue Scrapers

2 Biodegradable Toothbrushes

3 Children's Biodegradable Toothbrushes
Packaging Disposal

Toothpaste: The tubes are 100% sugarcane bioplastic so we recommend compost pickup as the best option (it will break down in your backyard compost pile but that will take longer). The caps are recyclable!

Adult & Children's Toothbrushes: Toothbrush handle is bamboo so it is biodegradable, the bristles can be removed and recycled.

Floss: 100% recyclable

Copper Tongue Scraper: Looked after carefully, your copper tongue scraper should last for years, making it a low-waste form of oral hygiene!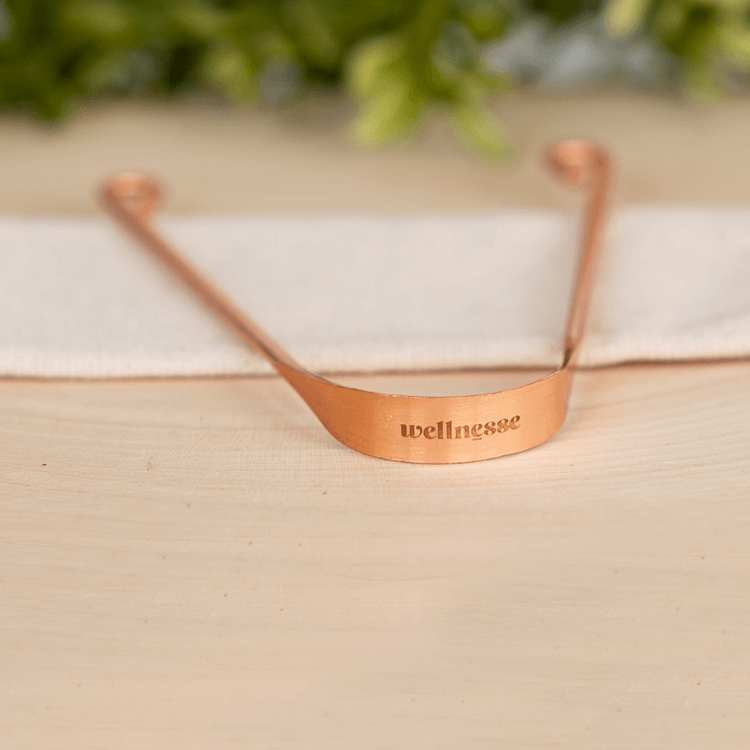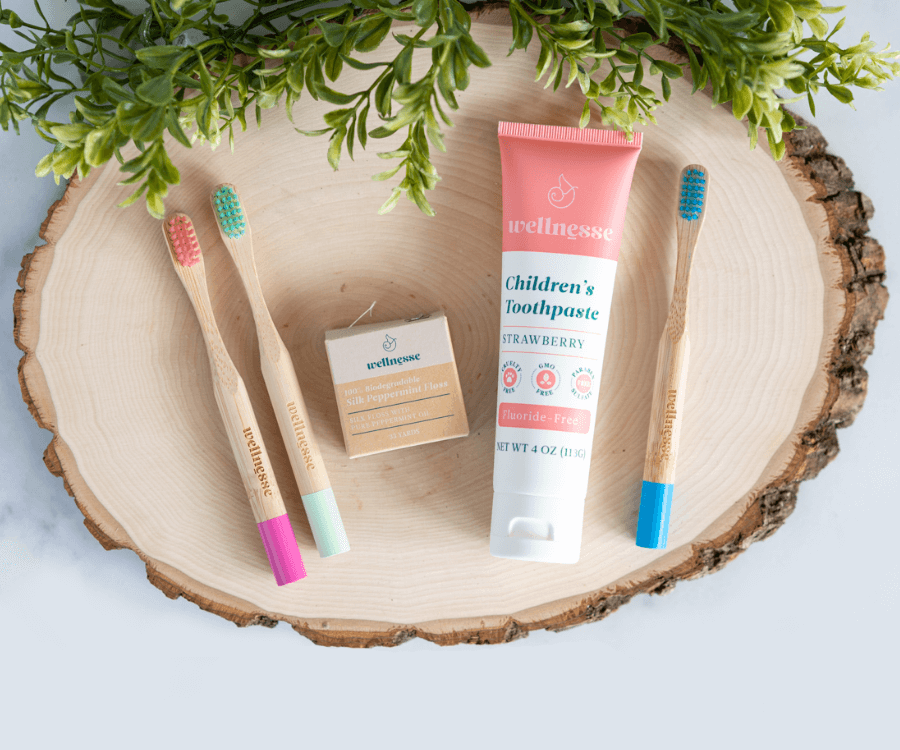 WELLNESSE TOOTHPASTE WITHOUT FLUORIDE!
Christmas came early with our bestselling toothpaste formula! Instead of fluoride, our formula contains hydroxyapatite, a naturally-occurring mineral and main component of tooth enamel.
We combined green tea with hydroxyapatite to strengthen teeth and prevent cavities.
Not only does charcoal powder work to remove stains and whiten teeth, but it also detoxifies your mouth.
-- SOME OF OUR CUSTOMER REVIEWS --
Brittany
I love that these products are more environmentally friendly than other options (like the plastic single-use flossers)!
IDALIA
So I bought 2 before Thanksgiving because I saw the great benefits. But when I tried it I was just in awe by how well it cleans and takes off plaque!
Kristen P.
It's spendy but my husband and I think it is totally worth it. Our teeth are whiter and feel "healthier". I was having sensitivity in a couple of my teeth and since using this toothpaste it is all gone. We keep coming back and buying more.
WHY WE CHOSE 100% COPPER
100% copper naturally possesses antimicrobial properties, making it far more effective than other commonly used materials, such as stainless steel and rose gold.
Copper also has a pretty impressive shelf life (lasting for years with proper care), minimizing waste!
SHOP NOW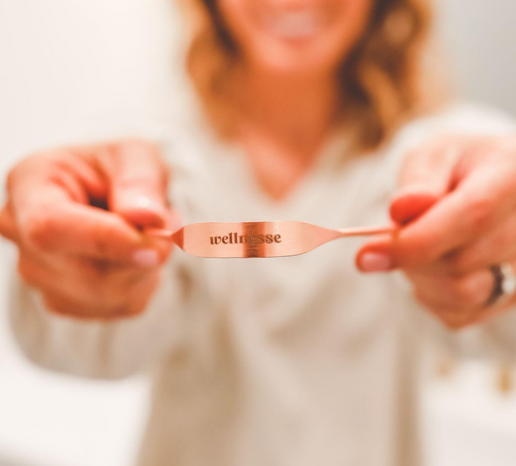 FOR STRONG, HEALTHY SMILES
Children become especially vulnerable to tooth decay and cavities when they resist brushing, so we designed this toothpaste to appeal to children everywhere without compromising our ingredient integrity.
Our children's formula contains all our favorite powerhouse ingredients (like remineralizing hydroxyapatite and bacteria-fighting Aloe vera) and achieves excellent flavor without artificial flavors or sweeteners.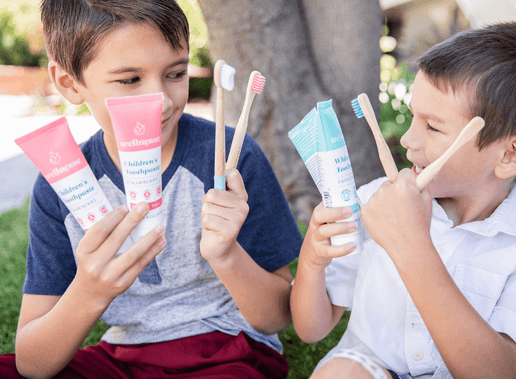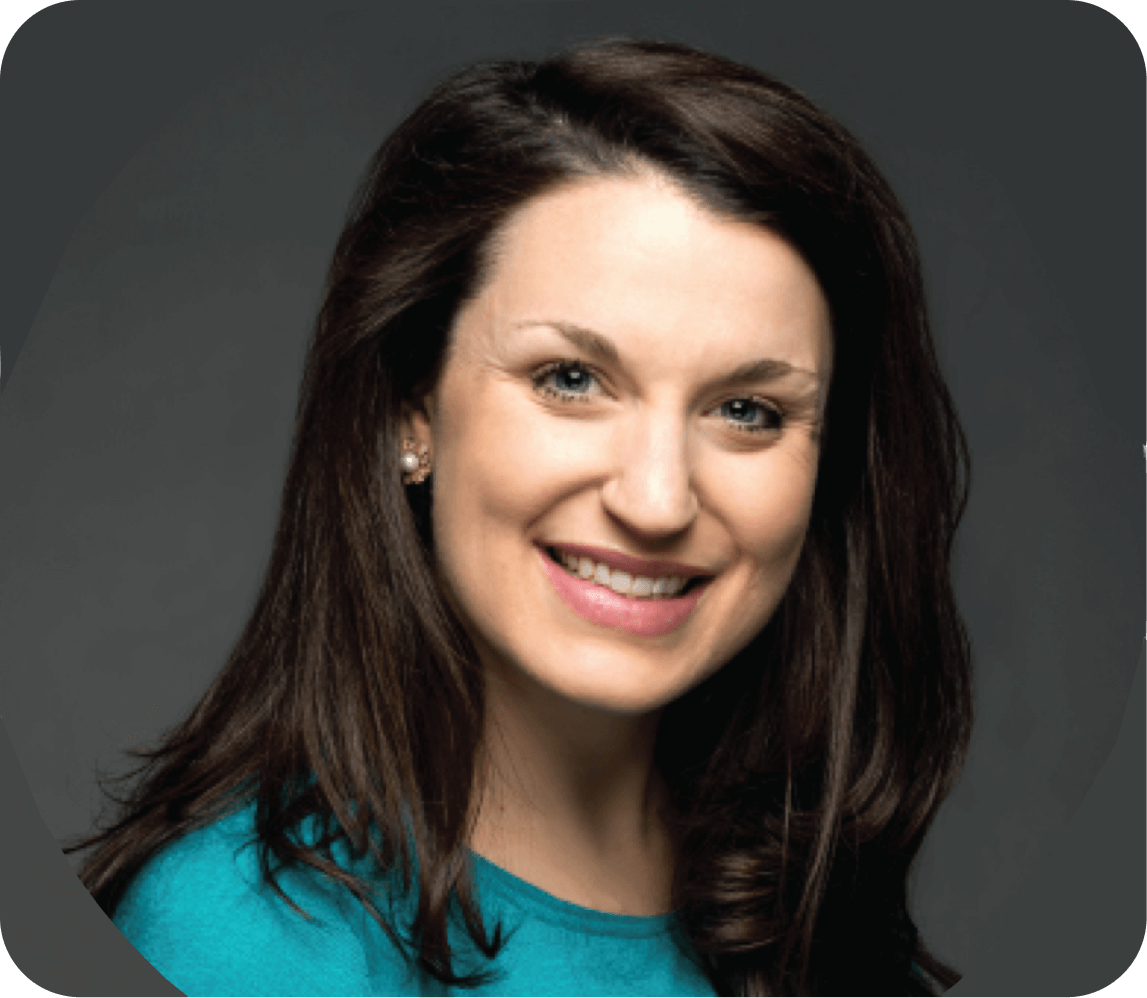 DR. MEGHAN THOMAS, DMD RECOMMENDED WELLNESSE TOOTHPASTE
"I use Wellnesse toothpaste and recommend it to my patients."
It contains hydroxyapatite, a naturally occurring mineral that helps support tooth enamel to keep teeth strong. Ingredients like neem and green tea to support a healthy oral microbiome, and keep your breath fresh. Wellnesse toothpaste gets your teeth just as white (if not whiter) than everything else--without all the chemicals. Why would anyone NOT switch?"
SUSTAINABLE PACKAGING
Unlike conventional flosses that use wasteful plastic casing, our peppermint silk floss is packaged in a small cardboard box that is 100% biodegradable and recyclable. Simply toss your used floss in the compost and the box in the recycling for a completely waste-free experience!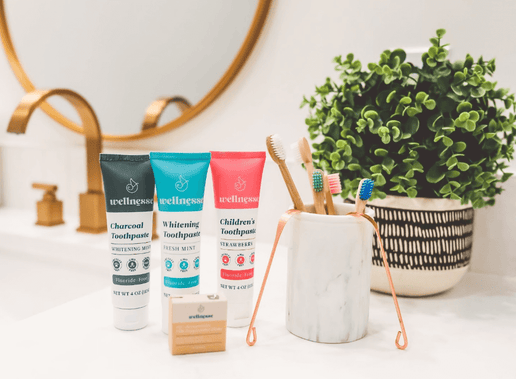 -- Nothing To Lose – Everything To Gain --
No Regrets Allowed! Try Wellnesse Risk-Free With Our Happiness Guarantee
At Wellnesse, we believe everything should be this good. That's why we're making it risk-free for you to try! If you're not happy with your purchase for whatever reason, just contact our customer service team within 30 days and we'll make sure you're happy.
ADD TO CART

MOST POPULAR
Regular price

Sale price

$15.00

Unit price

per