Get a Bright, White, Healthy Smile Without Fluoride!
Transform Your Smile Instantly Without Disrupting Your Mouth's Oral Microbiome With 2-For-$25 Wellnesse Whitening Toothpaste!
Are you looking for a way to strengthen and brighten your teeth without toxins, fluoride, and glycerin?
Wellnesse Whitening Toothpaste is the perfect way to support your oral health naturally.
Hi, I'm Katie Wells, co-founder of Wellnesse and Wellness Mama.
After I had my first child, I got sick. For reasons I couldn't explain, my health just wasn't what it once was - and that included my oral health. (Did you know your oral health can be a huge indicator of your overall health?)
I learned that I needed to avoid the toxins that are common in most oral care products.
So, I created my own toothpaste recipe from scratch in my kitchen. Now, I'm thrilled to share it with you!
Using powerful, all-natural ingredients like Hydroxyapatite and Aloe Vera, our Whitening Toothpaste gently whitens the teeth and can even remineralize small cavities!
Most importantly, my homemade recipe is free from fluoride and glycerin, and the packaging is 100% recyclable!
With Wellnesse Whitening Toothpaste, you can expect:
Whiter teeth
Fresher breath
Stronger enamel
A balanced oral microbiome
Reduced plaque
Faded surface stains
Healthy, happy gums
Ethically-sourced ingredients
100% sustainable packaging

Don't miss out - get a two-pack Whitening Toothpaste for only $25!
Don't wait! Your smile upgrade is just a click away!
ORDER NOW
Customers are loving stronger, whiter, healthier smiles - without resorting to toxins and harsh chemicals.

"I have been using this product for two weeks. My teeth are visibly whiter but the main difference is that my teeth feel less sensitive. I think it's working!!!"
- Savannah

"This is the perfect toothpaste for people who want to transition to natural, because it still feels like normal toothpaste."
- Maria S.
A Million Dollar Smile - Naturally!
Unlock the Power of Nature with These Proven Ingredients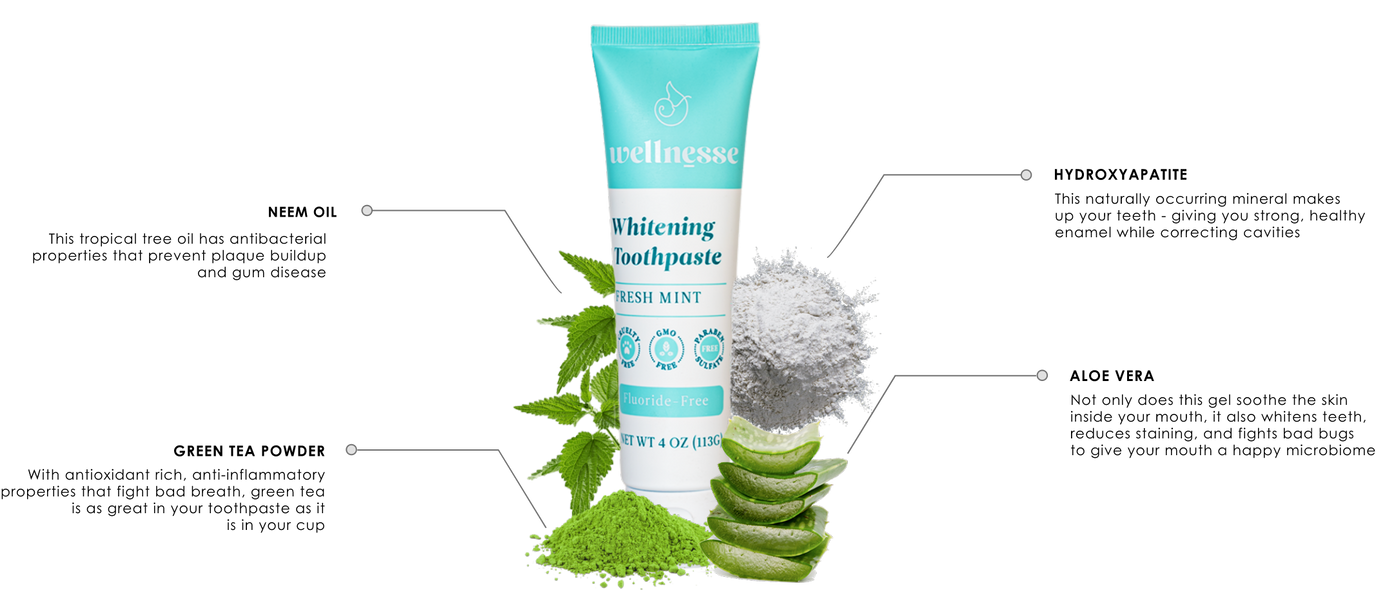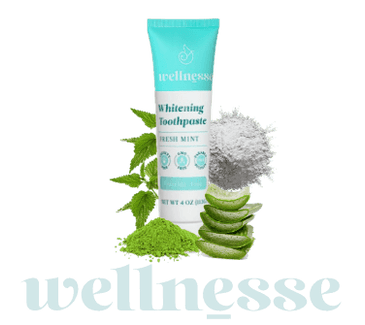 NEEM OIL
This tropical tree oil has antibacterial properties that prevent plaque buildup and gum disease
GREEN TEA POWDER
With antioxidant rich, anti-inflammatory properties that fight bad breath, green tea is as great in your toothpaste as it is in your cup
HYDROXYAPATITE
This naturally occurring mineral makes up your teeth - giving you strong, healthy enamel while correcting cavities
ALOE VERA
Not only does this gel soothe the skin inside your mouth, it also whitens teeth, reduces staining, and fights bad bugs to give your mouth a happy microbiome
Discover the Benefits of Wellnesse Whitening Toothpaste
Transform your smile without any of the harmful ingredients used in conventional oral care products.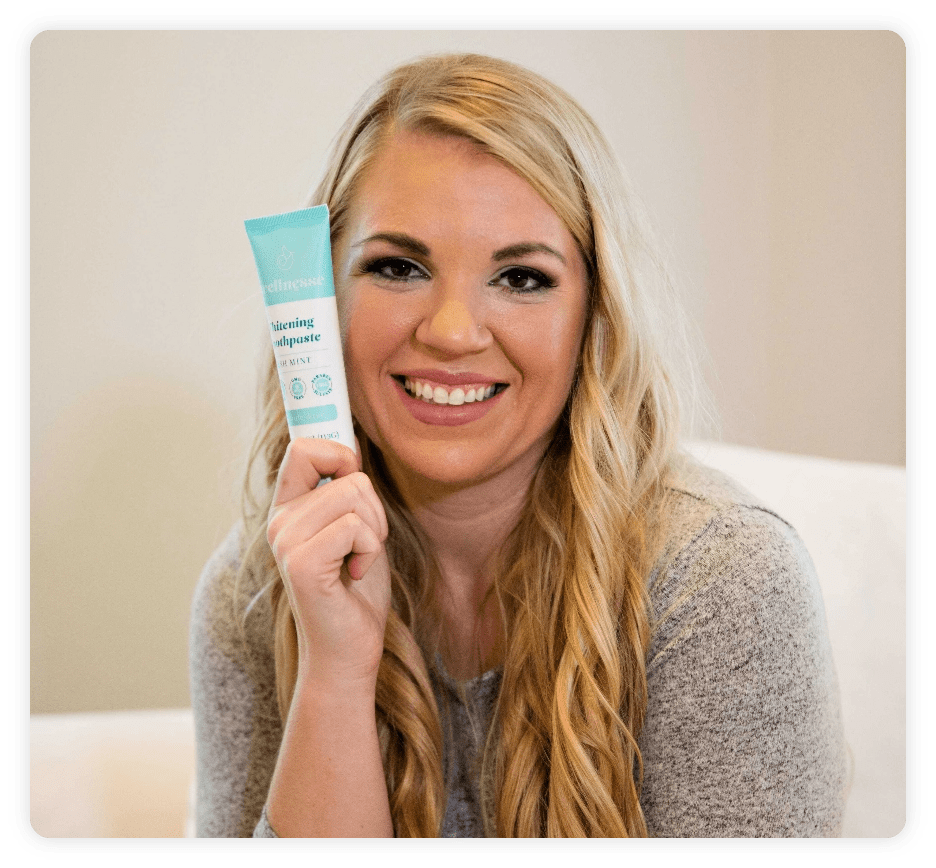 Your Happiest, Healthiest Smile
With Wellnesse Whitening Toothpaste, most customers see (or feel!) results with the very first use!
Our 'superfood' ingredients - like aloe vera, neem oil, and hydroxyapatite - work together to give you your happiest, healthiest smile in no time.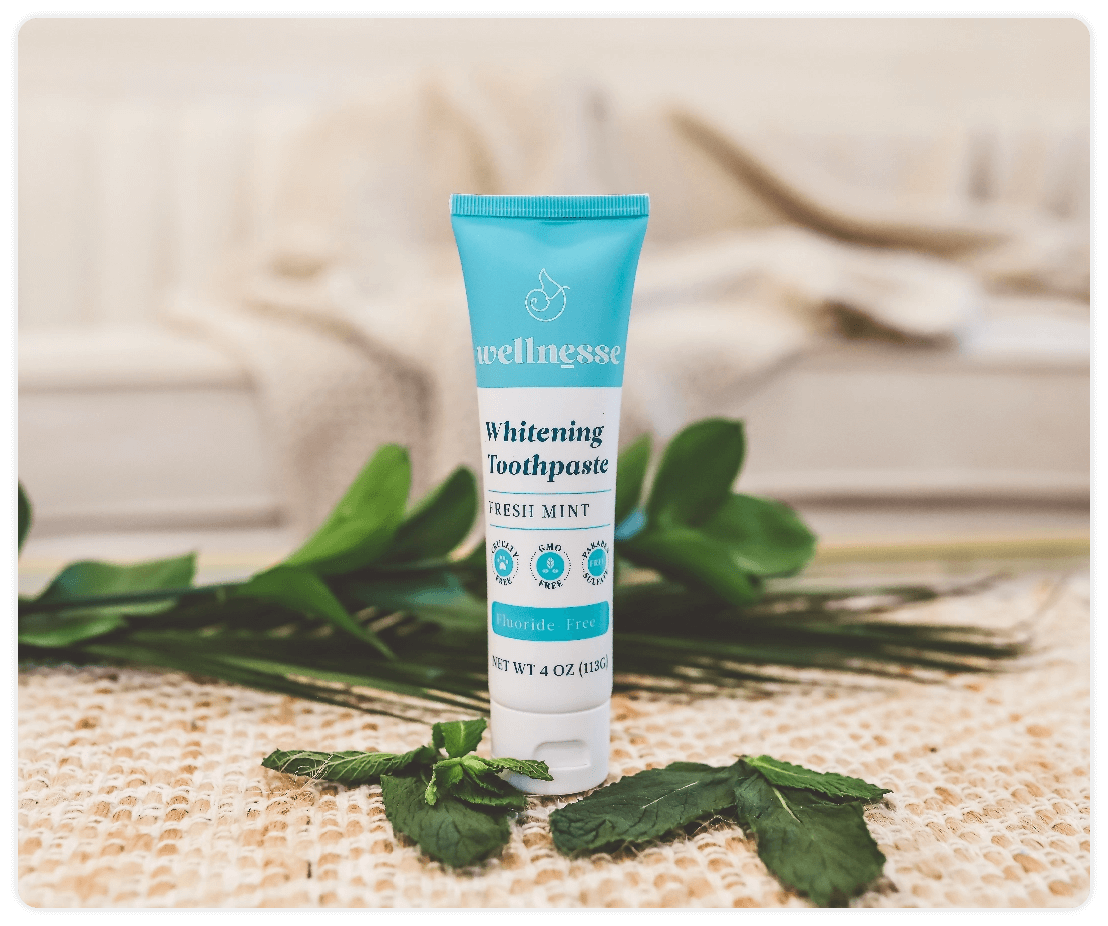 Eliminates Bad Breath Instantly
We've all experienced bad breath, and it's embarrassing!
But did you know that bad breath is often just the result of bacteria buildup?
Wellnesse Whitening Toothpaste uses antibacterial Neem Oil and antioxidant-rich Green Tea to destroy odor-causing bacteria and give you instant confidence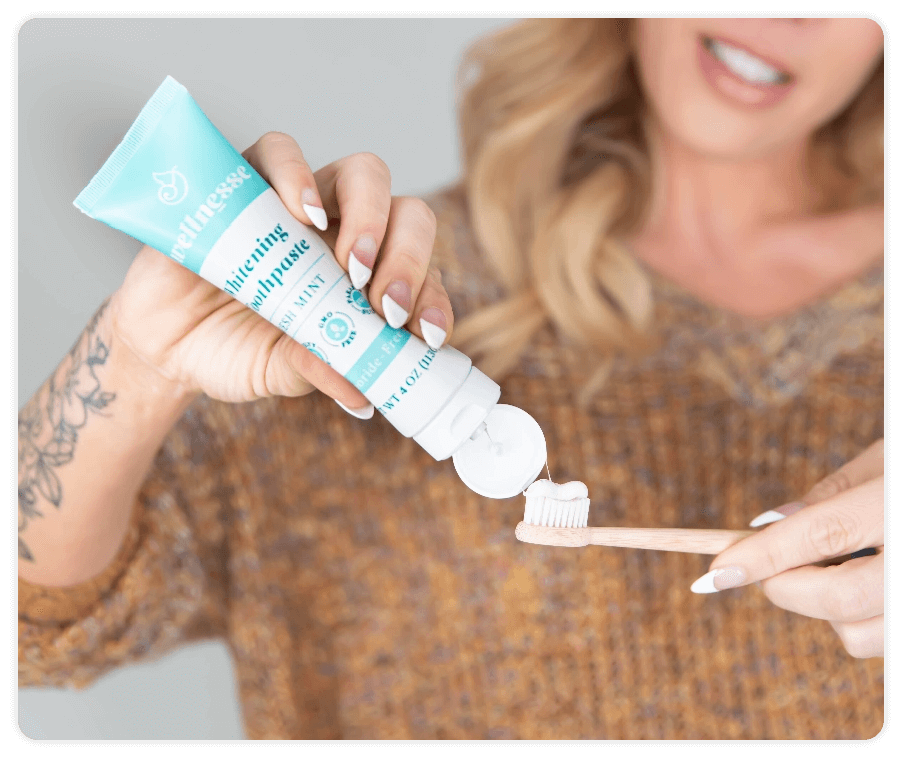 Strengthen and Remineralize Teeth With One Use
Hydroxyapatite is a mineral that naturally occurs in the teeth. We use it to gently strengthen damaged enamel - restoring the teeth and fighting cavities starting with your first use!
FREQUENTLY ASKED QUESTIONS
Is this a subscription?
No, this is a one-time order. There will be no surprise charges or future orders unless you place one!
How soon will I get my order?
Most orders ship within two business days, but delivery time will depend on your shipping address. Estimates for domestic and international orders vary.
Is Wellnesse Whitening Toothpaste safe for children?
Yes, our toothpaste formulas are safe for all ages! We encourage spitting, but there is no danger if any toothpaste is swallowed.
What makes Wellnesse Whitening Toothpaste different from other natural toothpastes?
We use all natural green tea and a biocompatible mineral called Hydroxyapatite. The same material your teeth are made of, hydroxyapatite helps stimulate growth in your teeth. This process (called remineralization) can help your body repair existing cavities and avoid new ones.
Are Wellnesse products natural?
Yes! Our ingredients are natural and safe for all ages. Wellnesse products are always cruelty-free, GMO-free, sulfate-free, paraben-free, and phthalate-free.
Get The Smile of Your Dreams With 2-For-$25 Whitening Toothpaste!
BUT
HURRY

!

This deal ENDS when supply runs out!
2-FOR-$25!
Normally $30